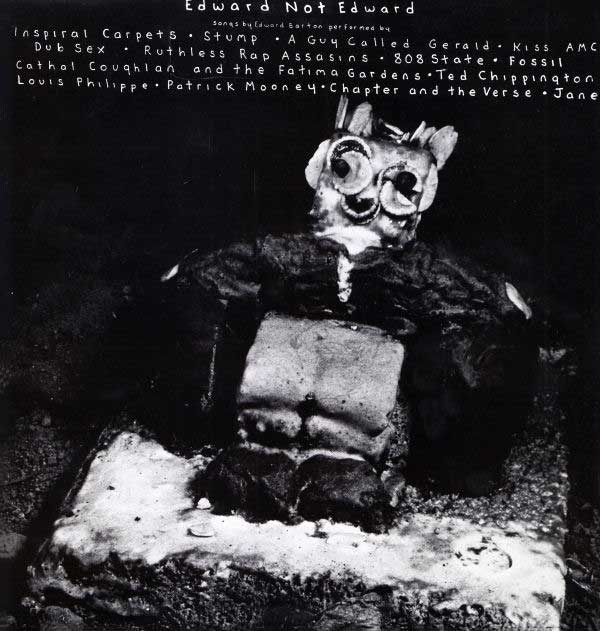 Edward Barton - Edward Not Edward
UK 1989 LP; Wooden Records: WOOD 7
Tracks:
1:47 Inspiral Carpets - Two Cows
4:00 Robert McKahey and Kevin Hopper (half of Stump) - King Of Flat Country
2:10 Cathal Coughlin and The Fatima Mansions - Dear Dad
3:10 Mick Lynch and Chris Salmon (half of Stump) - Knob Gob
4:37 Dub Sex - Barber Barber
2:29 Patrick Mooney - Me And My Mini
3:44 Louis Philippe - Telephone Box
1:35 Ted Chippington - Z Bend
3:34 Jane - I Slap My Belly
3:15 Ruthless Rap Assassins - Z Bend
3:41 808 State featuring Donna and Emma- Sorry Dog
3:33 A Guy Called Gerald - Barber Barber
4:43 Chapter and the Verse - I am a Mother
3:57 Kiss AMC - Smother
5:23 Fossil - On A Hot Day

Released:

Mid April 1989 (according to The Catalogue, #69, April 1989).
Credits:
"Thank you Adam Lesser and Graham V. Massey.
'Smother' produced by Graham V. Massey.
Marshall Walker took the photographs of Edward Barton's shoe collection and the cake of him which was made by Suzanne Pearson and weathered in Manchester.
A useful book of words and drawings for this record can be bought by sending £1.50 to 126 Charles Barry Crescent, Manchester, M15.
Edward Barton's L.P. record 'Here Is My Spoon' will be in record shops from May 1989.
This is Wood Seven. "
Written by Edward Barton.
"Barber Barber" - Vocals by Edward Barton. Music by A Guy Called Gerald.
"Sorry Dog" - Music by 808 state (Gerald Simpson, Graham Massey and Martin Price). Vocals Donna Partington (Darren Partington's sister, age 10) and Emma (Gerald Simpson's then girlfriend's niece, age 8).
"Z Bend" - Music by Ruthless Rap Assassins. Produced and Engineered by Graham Massey. 101 Bass by Gerald Simpson. Instruments by Graham Massey.
Comments:
A fantastic album, which has made me want to buy more of Edward Barton's records, but they are extremely difficult to find now (including this one). Contains tracks by Edward Barton covered by other acts including 808 State, Inspiral Carpets, Chapter And The Verse, Kiss AMC, Fatima Mansions, Dub Sex, Jane, Stump and the Ruthless Rap Assassins.
Graham Massey "The members at that point were Graham, Martin and Gerald. Donna is Darren Partington's sister (age 10? at the time) and Emma was Gerald Simpson's girlfriend's niece, age 8. Recorded at Spirit Studios. Gerald Simpson's track, 'Barber Barber', was recorded at Out of the Blue. Also, Graham and Gerald recorded 'Z-Bend' with the Ruthless Rap Assassins (Gerald does 101 Bass, Graham engineers). Graham produced and played the instruments on the Kiss AMC track, which appears in a different guise on 'Recharge' by the Biting Tongues."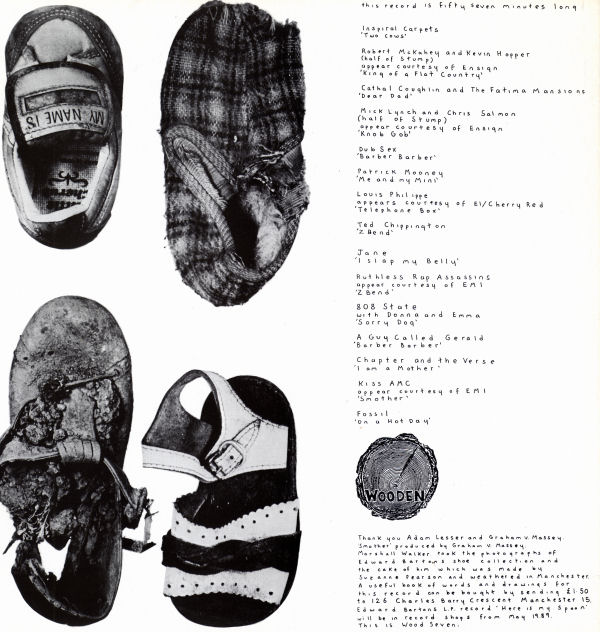 Edward Barton - Edward Not Edward - UK LP - Back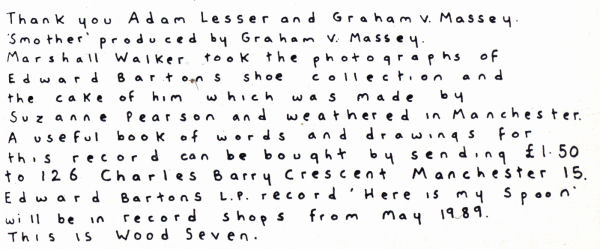 Edward Barton - Edward Not Edward - UK LP - Credits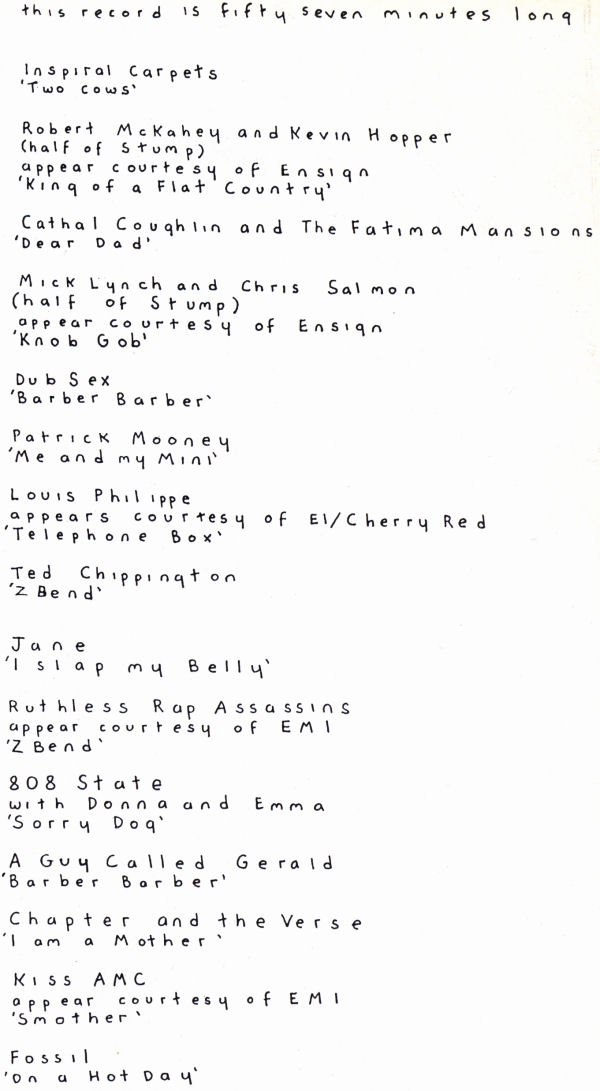 Edward Barton - Edward Not Edward - UK LP - Credits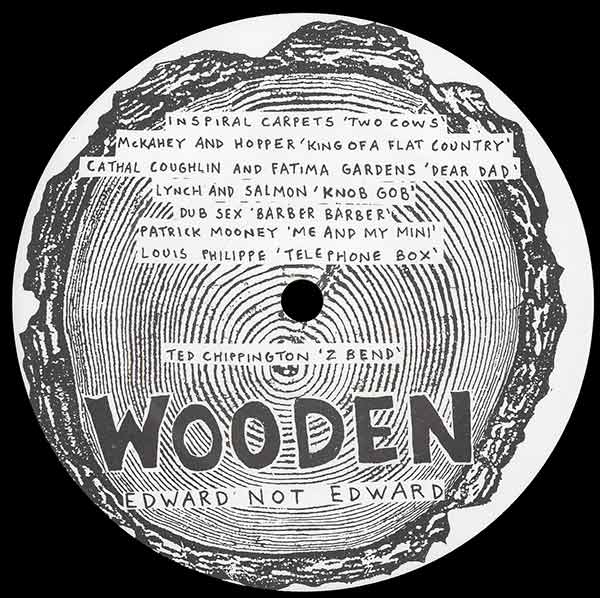 Edward Barton - Edward Not Edward - UK LP - Side A
Edward Barton - Edward Not Edward - UK LP - Side B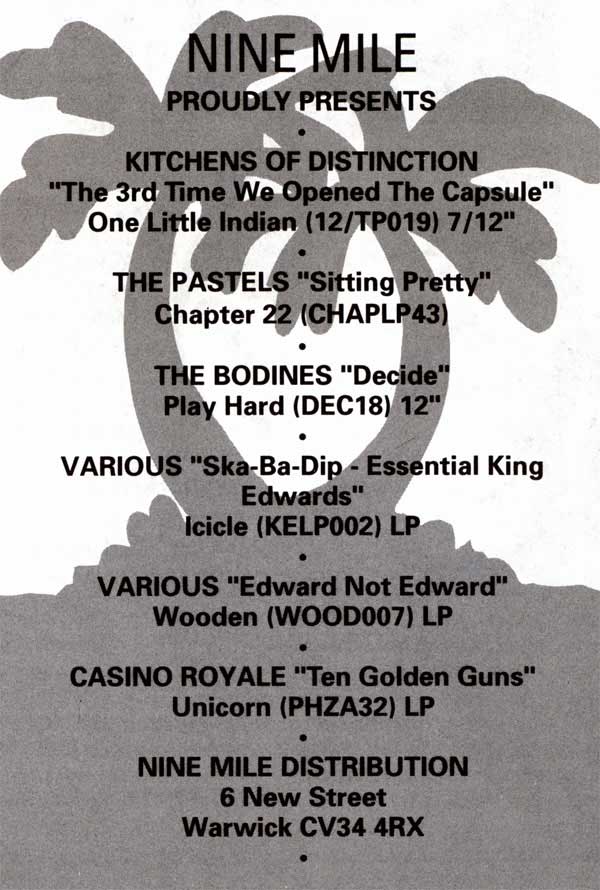 Edward Barton - Edward Not Edward - UK LP - Advert (The Catalogue, #69, April 1989)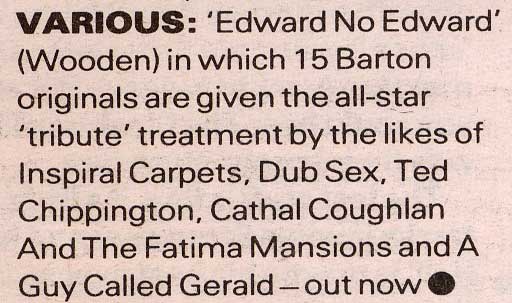 Edward Barton - Edward Not Edward - UK LP - NME Release Date (29th April 1989)