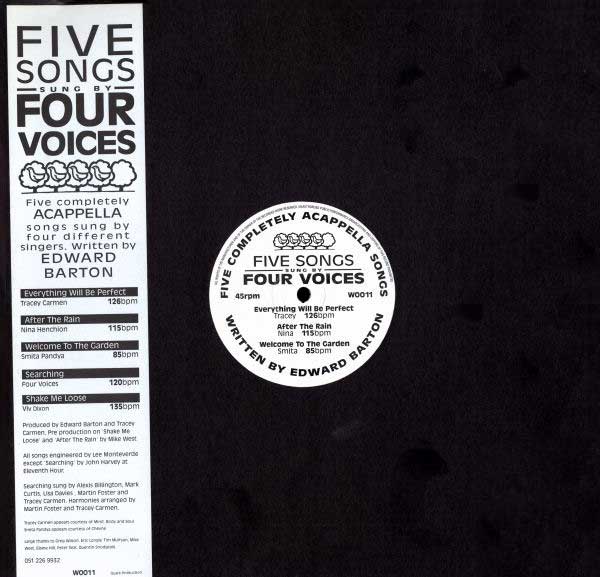 Edward Barton - Fives Songs Sung By Four Voices
UK 1994 12" Single; Wooden Records: WOO11
?? Everything Will Be Perfect (Vocals: Tracey)
?? After The Rain (Vocals: Nina)
?? Welcome To The Garden (Vocals: Simita)
?? Searching
?? Shake Me Loose
Released:
11th August 1994.
Credits:
'5 SONGS 4 VOICES'
5 acappella songs of rare quality on a 12" with a real difference, this is Edward Barton's first release since his best known composition, 'It's A Fine Day', stormed the charts for Opus III in 1992.
Currently causing quite a stir in the North on club promo and soon to be in session on Radio One (11th August), '5 Songs' is an E.P. of 5 simply very beautiful songs simultaneously designed for DJs and programmers to mix and match in the sample stakes, all tracks complete with bpm for the dancefloor minded in this post-rave climate. Use in their entirety or pick your bits, just add music and Bob's your uncle!
Long live the song and God bless the Akai.
SONG 1 - 'EVERYTHING WILL BE PERFECT'
Sung by Tracey of Mind, Body & Soul. who has also recorded with the Ruthless Rap Assassins and Sensuround
SONG 2 - 'AFTER THE RAIN'
Sung by Nina of Sub Sub
SONG 3 - 'WELCOME TO THE GARDEN'
Sung by Simita of Cheyne
SONG 4 - 'SEARCHING'
Sung by Alexis, Mark, Lisa, Martin and Tracey Mark is the featured vocalist.
SONG 5 - 'SHAKE ME LOOSE'
Sung by Viv who has recently been working with Honky and previously recorded with A Guy Called Gerald.
Dance music with a subliminal beat, use your imagination and fuse your innovation with Edward's inspiration to make your own creation.
Comments:
Sampler EP for Hush CD:
Tracey Carman
Smita Pandya
Nina Henchion
Viv Dixon
Press Release:
edward barton
One nice day in 1983 Edward Barton looked out across the grass from his home in Hulme, Manchester (the now demolished but never forgotten Charles Barry Crescent) and wrote a poem.
The poem became a song which was sung acappella by Jane.
The song became a recording which was released on the Cherry Red label.
The recording became an Indie top five hit, following plays initially by John Peel and later by daytime Radio One DJs.
And this was the story of 'It's A Fine Day' that is, until some years down the line, when Opus III revived the song, turning it into one of the most distinctive dance tracks of the 90's, reaching the U.K. top five and giving Edward a belated and highly unexpected worldwide hit!
in the nine years between the Jane and Opus III releases Edward embarked on a solo career and subsequently became a living legend in Manchester and Belgium. This all began with a memorable performance on ITV's The Tube, singing 'I've Got No Chicken But I've Got Five Wooden Chairs'. More songs and records followed, including 'Me And My Mini', 'Belly Box Brother Gob' and 'Barber Barber'. Edward continued to collaborate with other singers and musicians, most notably on his 1989 'Edward Not Edward' album, a compilation of Barton songs by a spectrum of bands including 808 State, A Guy Called Gerald, the Ruthless Rap Assassins, Stump and the inspiral Carpets. In 1990 he released his first solo album, 'Here My Spoon'. The follow-up, 'Oblong', is already recorded and will be out later this year.
A multi-media man, Edward runs his own record label. Until recently he had an art gallery situated in Affleck's Palace. One of his exhibits, 'Holekeeper', gave art enthusiasts the chance to put a penalty kick past Edward, whilst another, called 'Stolen', resulted in Edward's arrest and the gallery's closure by the police and 15 minutes of tabloid fame! He directed the video for 'Sit Down' by James, and even popped up on Wogan once, playing
guitar on Tears For Fears' 'Sowing The Seeds Of Love'. Last year he was invited to appear on The Big Breakfast, but he couldn't get up and appeared on The Late Show instead. Edward is one of the few performers to have had his work featured on Radios One, Two, Three, Four and Five!
Edward's latest project '5 Songs 4 Voices' is released via Wooden records on Thursday August 11th, with an album, 'Voices', to follow in October.
EDWARD UPDATE AUGUST 1994
Since its release earlier this month, Edward Barton's all Acappella E.P, '5 Songs 4 Voices', has been the subject of much media interest and intrigue.
Radio highlights have included a session for Mark Radcliffe and a Radio 1 Newsbeat feature, along with an interview for 'The Word' on top dance station Kiss 100. Press feedback has also been strong and a small selection is enclosed.
Edward is currently in the studio completing an album of acappella songs with a variety of vocalists, and a promo copy will be mailed to you in October.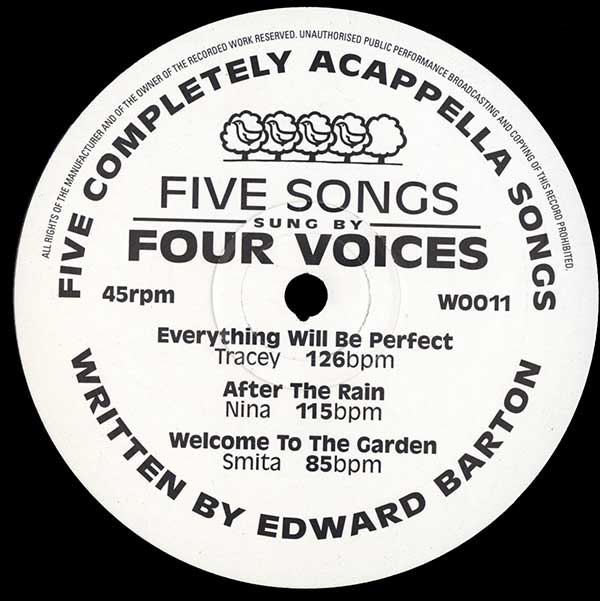 Edward Barton - Fives Songs Sung By Four Voices - UK - 12" Single - Side A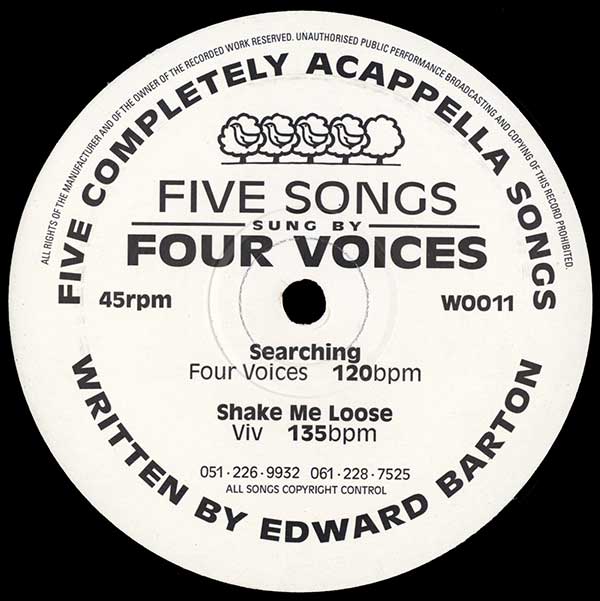 Edward Barton - Fives Songs Sung By Four Voices - UK - 12" Single - Side B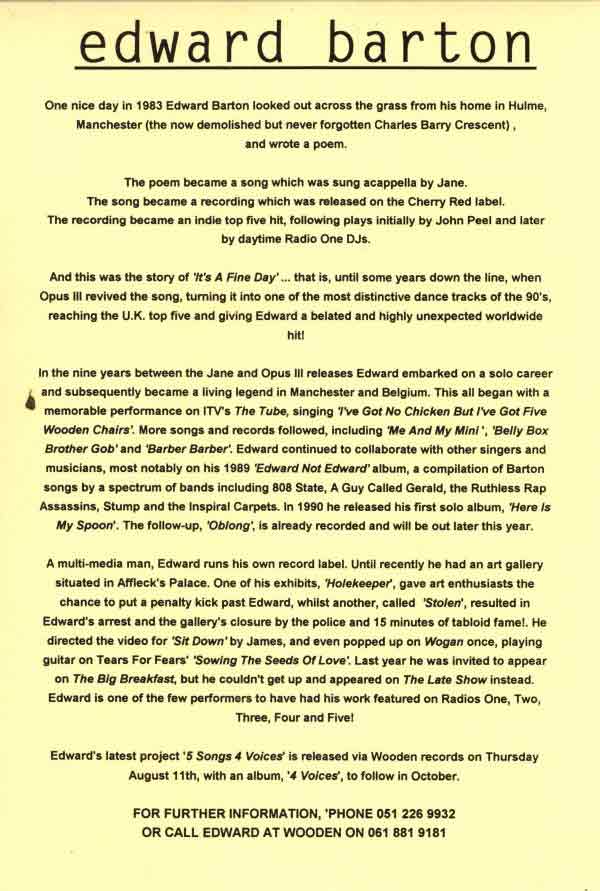 Edward Barton - Fives Songs Sung By Four Voices - UK - 12" Single - Press Release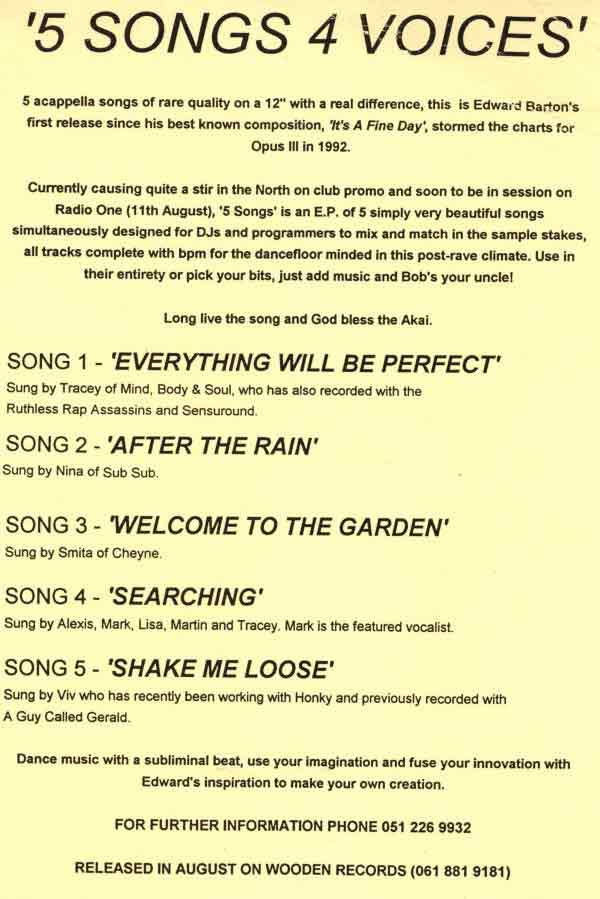 Edward Barton - Fives Songs Sung By Four Voices - UK - 12" Single - Press Release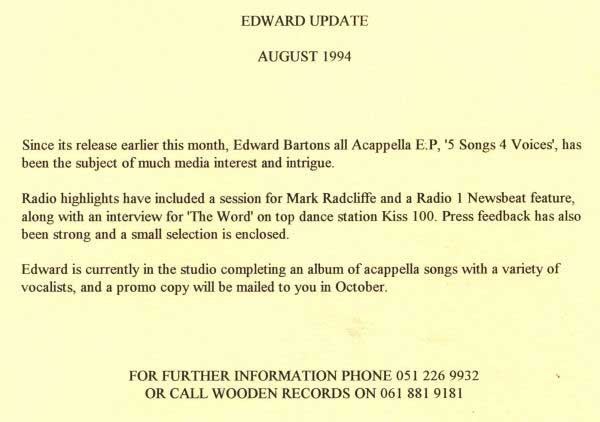 Edward Barton - Fives Songs Sung By Four Voices - UK - 12" Single - Press Release