January 1998
Ground-wave and short range tropo-scatter at 28 MHz
Vaino Lehtoranta OH2LX has spent many 'man-work-years' measuring and recording ground wave propagation at frequencies from LF to VHF, including "ground-wave" signals from [beacon] OH2TEN in 1990-92. The recording system at Jokela, Finland, was a 1 m (DUK) active vertical to an R&S ESH3 receiver.

The graph opposite shows average field strengths per hour (in dB above 1 uV/m) of OH2TEN for January 1991. Vaino writes "There was one case in Jan 1991 of a remarkable 'ducting' on 28 MHz during strong tropo (to 8 dBuV/m), but otherwise, I'll bet the diurnal variations are related to variations noted on MF and LF frequencies. The ground wave component field strength is a function of air temperature and field strength follows changes in air temperature with a 3 to 4 hour lag. Winter (LF) values here are roughly 3 to 7 dB higher than summer values. On HF frequencies the variations are much smaller, around 1 to 2 dB. We can note it on a 300 kHz beacon at a ground distance of 20 km only. We tried our best to isolate various factors affecting the ground wave component strength such as change in ground loss resistance."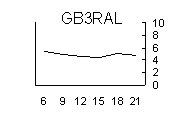 The small graph opposite shows the average signal strength ("S" units) of observations for GB3RAL made at G0AEV in January 1998 over a path distance of 58 km. Despite the small number of observations and broader time bands used, the diurnal variations match those in OH2LX's study. Check the 10m beacon pages for other examples of beacon monitoring results.