December 1996
1996 ARRL 10 Meter Contest
The premier 10 metre contest took place on the weekend of 14-15th December [1996]. The contest provides an almost unique opportunity to test 10m propagation under low sunspot conditions. There are always surprises; this year was no exception, with a really splendid mix of propagation. For the contest, solar flux was in the low to mid 80s, geomagnetic activity was quiet becoming unsettled later on the 15th.
G0AEV operated for the full contest making 215 contacts - which may not seem many, but was actually pretty competitive. 75 of these QSOs were with G/GW stations on ground wave and/or troposcatter, the bulk of the remainder being Europeans via meteor scatter, sporadic E or weak scatter mode. Only 21 DX QSOs were made, but these included some semi-exotic stuff such as 3B8, FR, 5X and YV.
In the hours preceding the contest there was excellent MS propagation from the Geminids shower (a good visual display too). Unfortunately conditions deteriorated somewhat by the contest start, but I made contacts with the stations who stayed up. Propagation was not Es as reported by some. The following morning there was a mix of MS, maybe some Es, and weak "ionoscatter" - e.g. signals from big station I4YSS were audible much of the day. Contact rate peaked at 09.00, probably reflecting the availability of new stations to work. There were a few dx openings - no Africa, but reasonable F-layer to South America around 15 to 16z. Finally there was a late evening (22z) Es opening to CT.
Sunday brought weak Es propagation, with little, if any, contribution from meteors - QSO rates peaked at 10z. There was coincident propagation to Africa, possibly with a final E-hop into Europe. Nothing was heard from South America on Sunday. Around noon there was a superb sporadic E opening to the north - LA, OY, even short skip from GM. In the summer, similar propagation often precedes northern-route trans-Atlantic Es. However, it came as a big surprise to work 3 stations in VE1 at 13z. No other North Americans were heard (though a few other long haul E paths were open - see below - all of very restricted footprint). Finally there was another Es opening (to DL and OK) around 16z.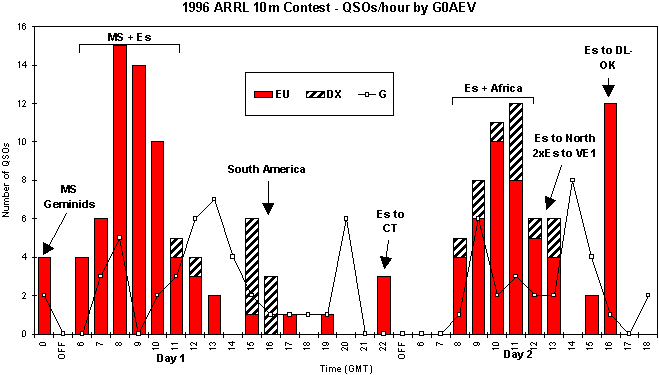 Other interesting contacts reported on the Sunday: between 15.00 and 16.00z, New England to a restricted area of NW France, GJ and GU via Es (?). Nothing heard in G, PA, etc. At 19.45 a station in New Mexico worked into northern Norway - another probable multi-E contact, with auroral E possibly contributing to the over-pole path. Generally, N. Americans experienced some excellent sporadic E. Italians worked VK and ZL on Sunday morning, benefiting from their southern European location, and there was supposedly an F to JA QSO on 13th. Other spectacular contacts included VK9/ZL-W8 and ZL-KL7.